Applecross Peninsula - the past persists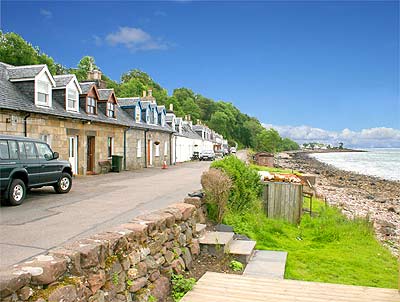 The village of Applecross (Where the Hotel is and locally referred to as The Street, not Applecross) is well worth a visit, even if only for the satisfaction of arriving there via one of the steepest access roads in Britain known as Bealach na Bà - the Pass of the Cattle. The Bealach has a height of ascent to over 2053 feet in just 3 miles from sea level - gradient 1 in 3. The road / route / hill is also known as Tornapress, Bealach nan Bo. A gallery of images is available here .. The Road To Applecross - a pictorial guide to the beallach na ba
Appleross is actually the name of the whole peninsula or parish encompassing the villages of Milltown, Camusterrach, Toscaig, Camasteel and Lonbain (as well as other wee settlements) Sand, where the historical excavations have been taking place, show settlement dating back 8000 years! This would make Applecross one of the earliest places settled in Scotland.
The Gaelic name "A Chomraich" (meaning "the sanctuary") seems very apt as you discover the attractions of this remote Highland area, despite the obvious rugged beauty, an ambience of peace pervades the whole area. The boundaries of A Chomraich were once maked by crosses - one of which (parly destroyed by fire) can be seen at Camusterrach if you were to ask around.
The name Applecross comes from Pictish Apor-crossan (conluence of river Crossan)
A small line of cottages borders the tiny village street on one side, with the sea wall on the other. Until the alternative road was opened in 1975 most freight and passenger traffic was brought to Applecross by sea. This remoteness and limited accessability for so many years has meant that Applecross retains a simple unspoilt charm that many other villages in the Highlands would envy.
Attractions to tempt the visitor include the award-winning Applecross Inn (http://www.applecross.uk.com/inn) where fresh seafood is a speciality, the Applecross campsite incorporating flower tunnel and cafe (http://www.applecross-campsite.co.uk) and the Heritage Centre (http://www.applecrossheritage.org.uk).
No mention of these would be complete without the inclusion of the famous sandy expanse of beach a couple of miles out of the village - great for picnics, sand sledging and swimming. One of the best in Britain with maybe 70 ft dunes on one side.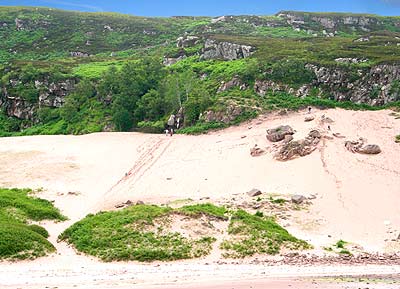 Those tiny dots centre left are people on the dunes
Going in the opposite direction from the beach, one passes through a series of hamlets which look more in keeping with the 18th century than modern Scotland... Milton, Camusterrach through to the old pier at Toscaig where the boat used to ferry local folk to Skye and Kyle of Lochalsh. These are places to linger and perhaps meet the friendly inhabitants.
Appleross of course is not just the village but the whole Applecross peninsula with some of Scotland's most beautiful and unspoilt wilderness.
Applecross is approached via the highest mountain road in Britain and at some points quite steep. However there is now another road into the area if you want or need to avoid the 2000 or so feet in height, single track and multiple hairpin bends of the Bealach na Ba (pass of the cattle).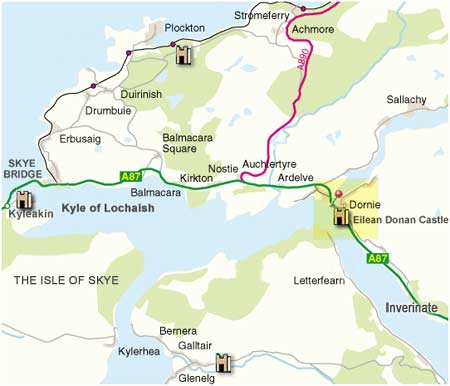 Map showing the location of Applecross (coming soon)